If you're new to essential oils, one of the first things you are probably wondering is "What is the best essential oil company ?" It's overwhelming. I get it. I was brand new to essential oils not too long ago. There are SO many to pick from, and you can even get essential oils at Target and Walmart now. WHAT?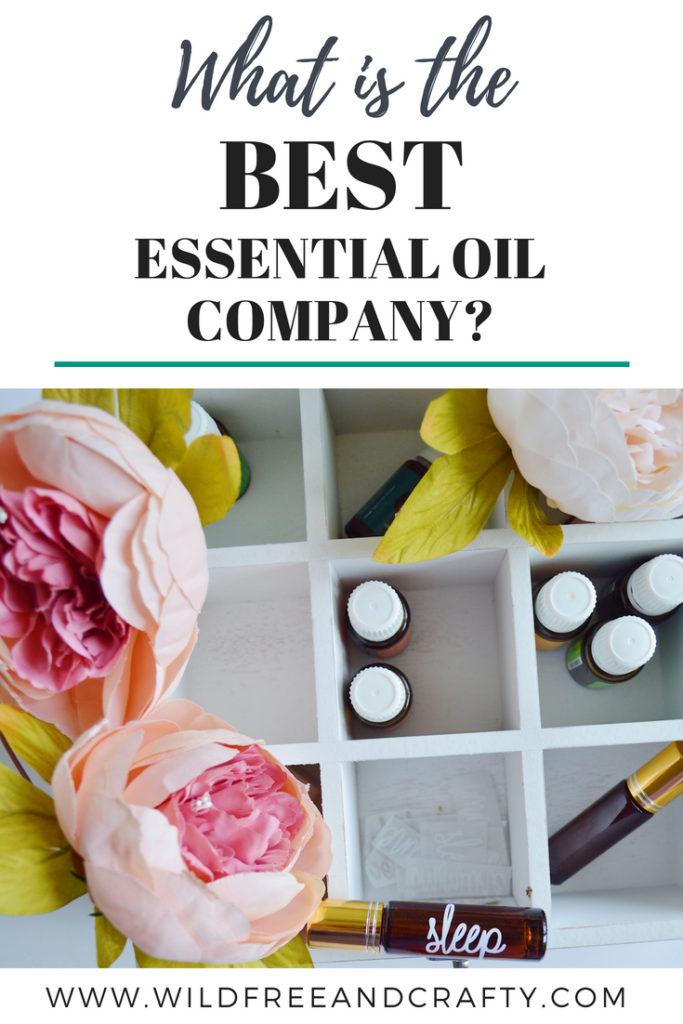 The oils at superstores might seem awfully tempting given their small price. Friends might be promoting specific brands to you but you can't help but wonder if they're promoting them because they work for the company, or are those essential oils really the BEST?
Don't Buy Supermarket Essential Oils!
A little PSA for you – I have crowned myself the Research Queen. I love researching. So believe me when I say, I've done my research and I've found what I believe is the best essential oil company.
Additionally, I discovered that buying oils from superstores is a big mistake. If they're so cheap you can't believe it, they're too good to be true. They will likely be a waste of money and will not be nearly as effective as pure, high-quality essential oils. In contrast to pure and quality essential oils that go through rigorous testing, supermarket essential oils can sometimes be downright dangerous because they may contain ingredients that shouldn't be in there.
Will it Pass My Research Competition?
In order for a company to win as the best essential oil company, it had to pass….
1. Quality & Purity
The best essential oil company has "some of the strictest [standards of quality] in the industry. Before we sell an essential oil we do everything possible to establish that it is 100% pure, natural, AND of the highest quality, making it appropriate for use in aromatherapy. To ensure that each oil meets these strict standards, [we work] directly with world-renowned essential oil expert, Robert Tisserand, and several analytical laboratories. […] our oils are sent to one of several third-party laboratories where they undergo multiple tests including Gas Chromatography and Mass Spectrometry (also known as GC/MS testing). Every batch of oil we receive goes through both rounds of testing, and these tests will show us the quality of the oil and also what is in the oil."
2. Organic Essential Oils
Although this isn't always a necessity for me, I do prefer to ingest only organic foods and body products, so organic essential oils as an option are a big plus. This essential oil company has a TON of organic oils!
3. KID SAFE!!!
This one is HUGE on my list. If there isn't an easy way to make sure I am diffusing and using oils on my kids that are safe for them, I am out! Certainly, I didn't want to have to sit there and GOOGLE for 45 minutes before using oil to figure out if it was okay to use on my kids. That's ridonkulous. However, that's what I was doing! And I was so tired of it. There is so much conflicting information on the web that I ended up giving up and not using anything because I didn't want to risk harming my children.
My favorite company has "the first-ever line of essential oils developed especially for children. Formulated by Robert Tisserand for children ages 2–10, KidSafe features a variety of synergies and single oils targeted toward specific issues and ailments common in this age range. All are available as 100% pure, undiluted essential oils as well as pre-diluted roll-ons.
As parents ourselves, [we] wouldn't settle for anything less than absolute safety. That's why we invited the world's foremost expert on essential oil safety, Robert Tisserand, to create the KidSafe line. The level of research, testing, and quality assurance that we put into developing our KidSafe line is unparalleled in the industry. And not only are the oils 100% safe for children, but they are also effective too."
4. Affordable Price & FREE SHIPPING
It probably sounds like I was asking for the impossible with essential oils. Affordable, high quality, pure, organic, and a kid-safe line. This company came into the essential oils market with this goal in mind – "In 2011, the founders set out to change the essential oils industry by offering the highest quality oils at the lowest price direct to consumers. " Plus they offer free shipping!
5. No membership or kit buy-in requirements!
You can buy right from the manufacturer and you don't have to buy a kit or have a membership.
OKAY, I'M SOLD!
And the Winner is…..
Shocked is an understatement of my reaction when I found the best essential oil company that met all my criteria. I'm pleased to say we have a winner although I was pretty positive my research would result in many failures and I would give up on essential oils forever…
From my research, the best essential oil company is… Plant Therapy!

I CAN NOT say enough GREAT things about this essential oil company and its products. I LOVE LOVE LOVE them. I almost want to marry them. But that would be weird.
Anyway.
It's fabulous being able to use the KidSafe line and not worry about using oils on my kids. Also, I love that there are so many Synergies (blends) to choose from for specific issues (like blends that help with mom's brain…. not that I would know… and attention, calming, sleeping, sickness, upset stomachs..you name it!). Because of their synergies, I don't have to make up some super witch potion… Cue "Boil, boil, toil, and trouble!"
Shop now for quality essential oils and KidSafe products at Plant Therapy. I totally recommend it.

Don't know where to start? Read my guide to my top 20 ESSENTIAL essential oils.
Any links that direct you to Plant Therapy are my affiliate links so I may earn a commission if you order. BUT! This doesn't add on anything to the cost of your order, and your support by purchasing through links on my blog helps support this blog so we can continue to do what we do. And please know, I am only an affiliate of companies and promote products that I personally love and use myself!