The average American child spends 4 to 7 minutes a day in unstructured outdoor playtime compared to over 7 hours per day in front of a screen.  Playing on a tablet, computer, or playing video games seems safer and easier, but the social difficulties and increase of diseases such as obesity and diabetes prove that spending too much time indoors is an unhealthy habit. Getting kids outdoors is very beneficial, and there are so many kids crafts you can do in nature.
Why is Outdoor Time So Beneficial?
Playing outside promotes creativity and imagination. When there is no screen to entertain them, children (and teens) have to get creative to play. Being outdoors often builds thinking skills, since children naturally ask many questions about what they see and sense outdoors. Spending time outdoors gets kids moving which promotes exercise as well as focus. And last, it reduces stress and fatigue.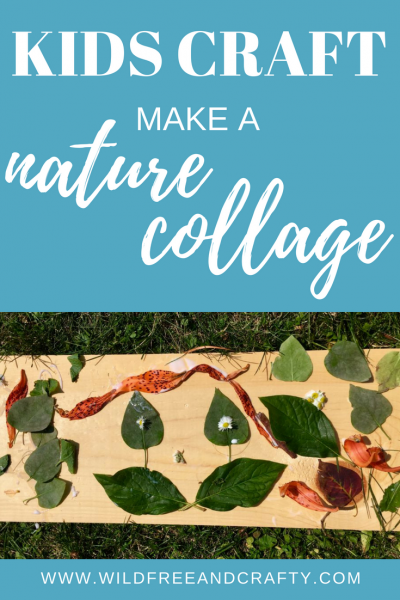 Nature Collage Kids Crafts
Besides unstructured playtime outside, there are so many learning activities you can do with your child. One fun activity is creating a mixed media nature collage from found objects outside.
To begin this activity, find a surface on your child to create the collage on. This can be a temporary college or permanent. We have created collages on outdoor rugs, on the patio table, on paper, and on wood. 
For a college you would like to keep, you will need:
Elmer's Glue
A piece of wood, paper or canvas
A basket or bag to put found objects in
Encourage your child to pick a variety of objects with different textures and colors. He or she can pick leaves from different trees, flowers, grass clippings, acorns, berries, bark, and more. 
After they gather their items from outside, simply put glue onto the surface (unless this is a temporary piece of art, of course) and watch as they lay out their artwork. You can have your kids work as a team to create a nature collage, or let each child create his or her own collage.
Depending on your child's age, the collage can be abstract or you can encourage him or her to form the found objects into an object or shape. My children had the idea to form their objects into a person's face, complete with hair and sunshine in the background.
This is a simple activity that encourages kids to get outdoors, experience nature, and learn about art. There are so many ways to learn through kids' crafts and through nature.